Why Sports Knee Flex Wrap is your BEST choice?
Professional Knee Brace, Medical Grade Pain Relief and Injury Recovery.

High-elastic design, soft and elastic fit to knee, making the protective gear comfortable to wear.

Breathable compression fabric, Quick at absorbing sweat.

No allergies and itchiness.

So you can wear them all day long!!!

Thickening to keep your joints warm and provide extra reinforcement without sacrificing comfort.
Stay active with the pain-relieving support of Knee FlexWrap. Providing supportive compression in a comfortable design, get the relief you've been waiting for as you crush your workouts.
Features:
Exercise Pain-free
Don't let knee pain hold you back. Alleviating tension and pressure, the Knee FlexWrap brings pain-free comfort to your active lifestyle. Enjoy your workouts with more ease.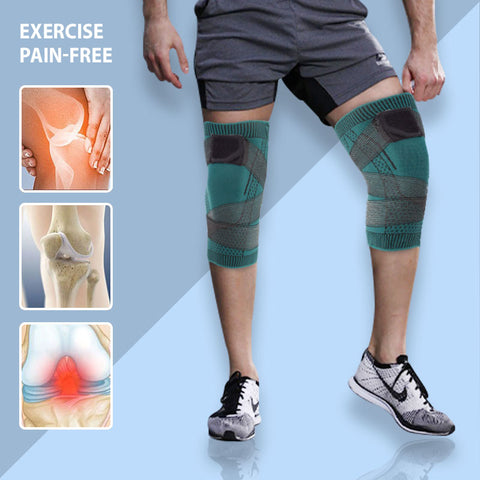 Stabilizing Support
Support you can count on. Stabilizing joints and ligaments, the Knee FlexWrap compresses to minimize potential for injury. Perfect for aiding in recovery from swelling, meniscus tear, ACL, PCL, MCL, and other knee pain.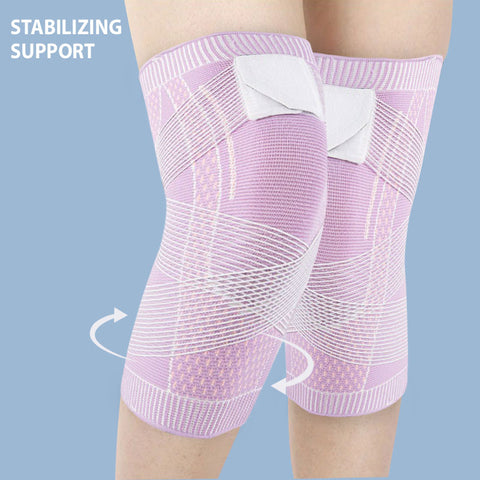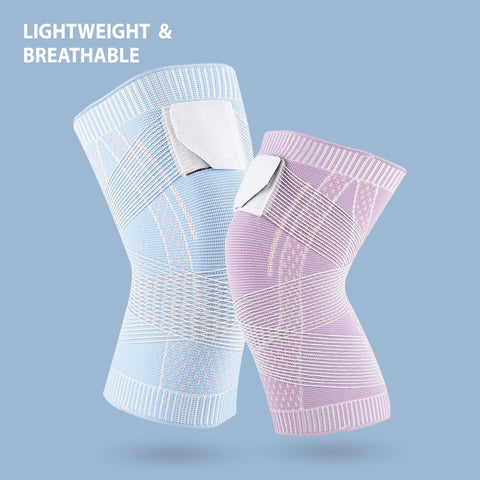 Lightweight & Breathable
All support, no restrictions. Made to be lightweight and breathable, the Knee FlexWrap is made for comfortable wear with soft moisture-wicking elastic. The double strap design provides anti-slip coverage with a little extra compression when you need it.
Detail
Horizontal Knit Technology

Innovative Technology: different from similar products, the rear of the kneecap is Breathable Design. The fabrics will not be congest in the popliteal nest during exercise, nor will sweat accumulate. Only to bring you the most relaxed feeling of exercise!

Targeted Relief & Support

Significant pain relief for meniscus tear, arthritis, joint pain relief, ACL, inflammation and swelling, meniscus and patella surgery, sprains and strains, sports injuries, muscle aches, bruises, knee surgery and more. BEST CHOICE for sports protection and pain recovery.

Multifunction and Unisex

The knee braces are suitable for both left and right thighs, Universal for men and women. The size chart is accurate. Widely used in many sports such as Running, Jogging, Gym, Weightlifting, Basketball, Volleyball, CrossFit, Tennis and more!
Size Chart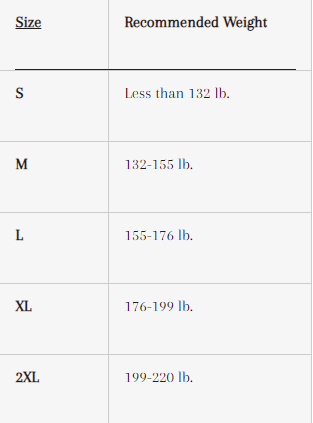 Product details
Applicable people: General
Color: Pink, sky blue, black, dark green
Material: Nylon
Specifications: S, M, L, XL, XXL