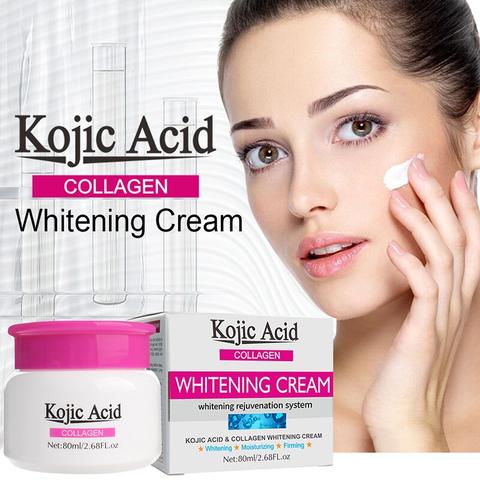 The Anti-Aging Facial Firming Cream for skin care with Kojic Acid and Collagen. It offers deep whitening and a natural glow through the contribution of collagen and intense hydration to the skin. This cream takes advantage of the properties of plants and Kojic acid to smooth expression lines and lighten the surface of the skin.
Benefits
1.Reduce dry lines and fine lines, Improve skin firmness, making skin smoother and more elastic.
2.Promotes the addition of collagen to the skin, this manifests itself through obvious effects, by undoing sagging. It can immediately transform the nutrients your skin needs and restore skin health and vitality quickly.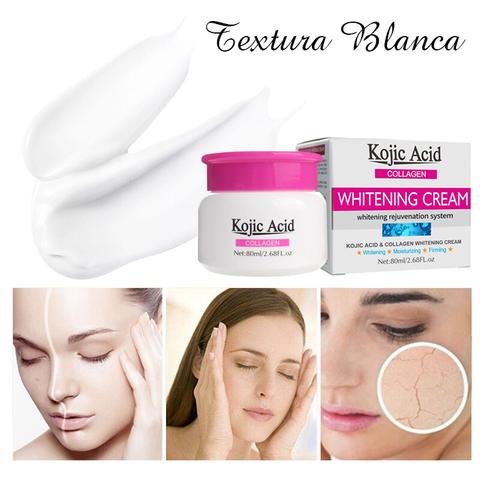 3.Reduces expression lines on the face, eyes, micro grooves on the forehead, central channel wrinkles located on the upper lip (nasolabials) and neck wrinkles. Improve the water content of the skin, make the skin more fine and smooth
4.Improves the roughness of the skin on the face, as well as the holes and various micro grooves caused by the self-repairing ability of weakened skin, due to the loss of collagen.
Specifications
Ingredients: Collagen, Kojic Acid
Type of article: face cream Gender: Unisex Skin Type: all skin types, dry skin, oily skin, sensitive skin.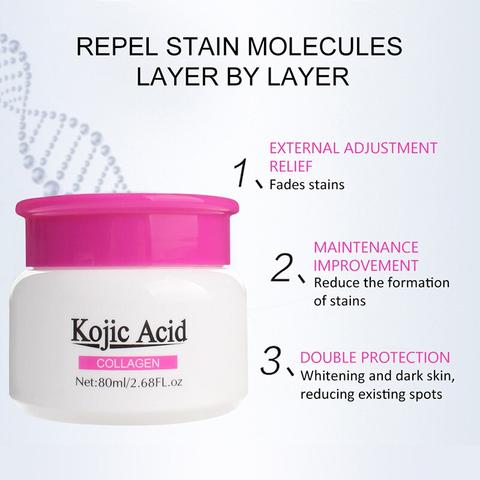 Mode of use
Clean your face first
In the morning and in the evening, take out an adequate amount of this product and gently pat it on the face so that it is slowly absorbed.
Keep using it to make your skin more smooth and beautiful.
The package includes: 1 face cream
Important Note: If there is any discomfort, please stop using it immediately.
Storage
Avoid storing the light at room temperature.
Cont. Net: 80 ml